About Leavenworth Village Voices
The Leavenworth Village Voices (LVV) is a nonprofit community choir that is passionate about sharing the joy of music with locals and visitors alike.  LVV spreads holiday cheer through concerts, caroling, and charitable and private events in the Bavarian Village and throughout Chelan County and the Wenatchee Valley.
Founded in 1982, LVV's mission is to:
Provide and promote a musical and an educational opportunity for individuals interested in singing and performing in a choir;
Strive for performance excellence;
Enrich our community and the visitor experience through music performance; and
Foster and promote the musical arts in our community.
LVV contributes to Leavenworth's Bavarian theme and festive atmosphere.  The choir performs primarily during the Christmas season in LVV's annual "Christmas in the Mountains" concert series. You may also hear the choir spreading Christmas cheer by performing in the gazebo and caroling downtown during Christmas festival weekends. We also consider it our greatest joy to bring the Christmas spirit to local assisted living facilities, bringing our concert to others each year.
LVV is proud to support music and the arts in our community. We offer an annual scholarship to a local student pursuing a career in music or the performing arts.
2023 Christmas in the Mountains Concerts:
Saturday, December 2 at 7:30 pm
Sunday, December 10 at 2:00 pm
Saturday, December 16 at 7:30 pm
Get your tickets today through the Icicle Creek Center for the Arts!
Proudly Supporting the Arts
"Music gives a soul to the universe, wings to the mind, flight to the imagination and life to everything."  – Plato
LVV offers an annual scholarship to a local graduating senior or recent graduate who will continue to pursue music or the performing arts in college. The scholarship is open to students who reside within the geographical boundaries of the Cascade and Cashmere school districts. Download the application to apply, or donate to support the Scholarship Fund.
The Leavenworth Village Voices is a registered 501(c)3. Donations may be tax deductible.
Eleanor Culling was the founder and first director of the Leavenworth Village Voices. After 20 years of teaching choral music in Michigan, she moved to Leavenworth in February of 1982. She became the choir director of the Leavenworth Community United Methodist Church, and soon determined there was a need for a community chorus in the Bavarian village.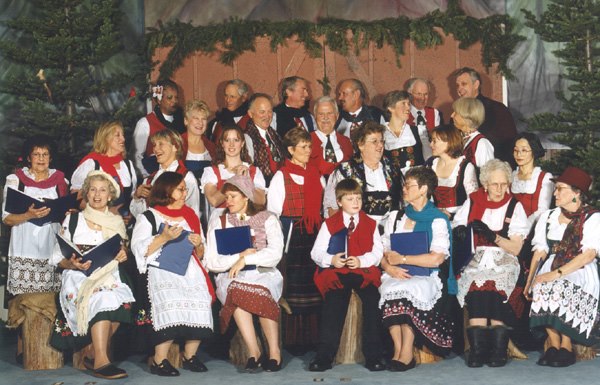 Members of several local church choirs came together to form the fledgling chorus; others were recruited from the community, wherever willing singers could be found. Eleanor once told a story about hearing a marvelous bass voice singing in the hallway outside her shop downtown. She dashed out of her store and "snagged him" for the choir. "He had no chance!" she recounted.
LVV performed its first Christmas concert in December 1982, where 46 members performed on the stage at the Camp Field Chapel, now part of Sleeping Lady resort. 
LVV has performed in the International Choral Festival—now the "Festival of Choirs"—from 1986 to 2013. LVV hosted the festival in Leavenworth in 1987, 1993, 1999, and 2005. Due to busy schedules and commitments, LVV in 2014 made the decision to perform exclusively during the Christmas season. The Women's Ensemble formed in 2015 for those who wished to perform year-round, and the group continues to perform in the Festival of Choirs.
Larry Henderson served as director for a remarkable 20 years, from 2000-2020.  Jennifer Sidebottom—an alto and the choir's accompanist from 2011-2019—also directed and arranged music for the LVV Women's Ensemble. 
Mindy Wall joined LVV as its new director in 2021.  She has a Bachelor's degree from Central Washington University in Music Education with endorsements in general music, instrumental music, and choral music.  She joined the Cascade School District as choral director in 2019 with experience teaching music, voice, and musical theater.  
Forty years after its founding, LVV is honored to carry on Eleanor's vision for a community choir in Leavenworth.  Our greatest passion has never waned or altered: sharing the joy, peace, and hope of Christmas through music.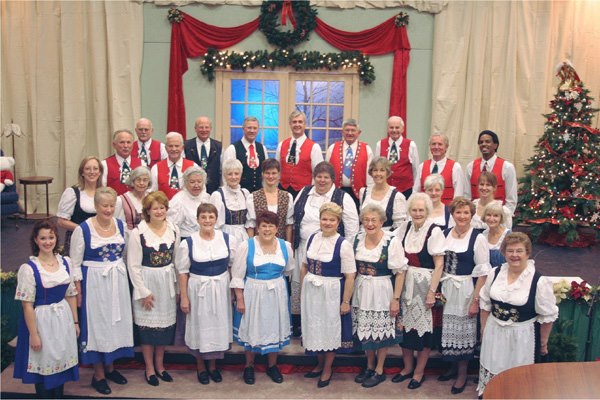 The whole concert experience was lovely!
Concert Attendee
It was all great, wonderful, fantastic, and outstanding!
Concert Attendee
Loved, loved 'Holy Night, Silent Night!'
Concert Attendee
Coming back on another date with guests!
Concert Attendee
Loved the beautiful harmonies and blending of voices.  The a cappella pieces had great harmony and nice balance. Concert Attendee
Enjoyed music selection of  traditional and sacred Christmas music. Concert Attendee Concert Attendee
The music and holiday cheer were very festive and got us in the holiday spirit! Concert Attendee
The music was wonderful and brought me joy!  I've been attending your concerts for 20+ years and this was a breath of fresh air:  glad I came! Concert Attendee
Loved the energy and enthusiasm of ALL performers: excellent! Concert Attendee
Excellent direction and professionalism. Concert Attendee
Loved the LVV Women's Ensemble!  Such beautiful voices; graceful appreciated the harmonium and guitar. Concert Attendee