Christmas in the Mountains
When you visit the Bavarian Village of Leavenworth, WA for that quintessential Christmas experience, our annual Christmas concert must top your itinerary.  We are sure to put you and your loved ones in the Christmas spirit!
Join us in our tradition of closing each concert with a sing-along of the "Hallelujah" chorus from Handel's "Messiah."  Our concerts also feature local guest artists, including the Leavenworth Village Voices Women's Ensemble, the beloved Bavarian Brass, and other talented artists.
As LVV celebrates its 40th anniversary, we look forward to sharing this special Christmas season with you! Get your tickets today!
The Leavenworth Village Voices Women's Ensemble is a subset of the choir, formed in 2015 by members who wanted to sing year-round. The Women's Ensemble performs as a guest artist at LVV's Christmas concerts and at year-round festivals, charity events, and private gatherings.
We love to spread Christmas cheer in our Bavarian village by caroling in small groups in downtown Leavenworth. You can find us with caroling books in hand on Christmas Lighting Festival weekends, typically the first three weekends in December.
We love it when people raise their voices and sing with us!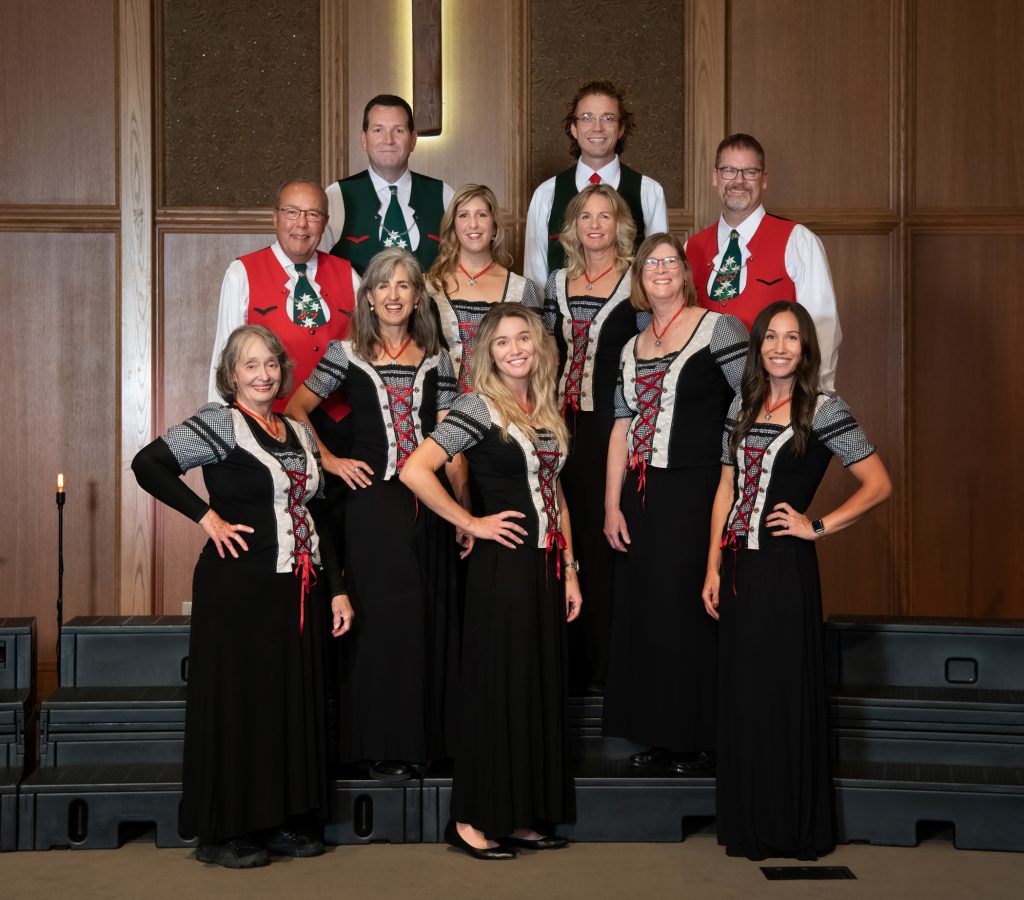 Did you know that you can book the Leavenworth Village Voices or the Women's Ensemble for festivals or your own private gathering? What a gift to share the sound of music or the joyous spirit of Christmas!
The whole concert experience was lovely!
Concert Attendee
It was all great, wonderful, fantastic, and outstanding!
Concert Attendee
Loved, loved 'Holy Night, Silent Night!'
Concert Attendee
Coming back on another date with guests! Concert Attendee
Loved the beautiful harmonies and blending of voices.  The a cappella pieces had great harmony and nice balance. Concert Attendee
Enjoyed music selection of  traditional and sacred Christmas music. Concert Attendee Concert Attendee
The music and holiday cheer were very festive and got us in the holiday spirit! Concert Attendee
The music was wonderful and brought me joy!  I've been attending your concerts for 20+ years and this was a breath of fresh air:  glad I came! Concert Attendee
Loved the energy and enthusiasm of ALL performers: excellent! Concert Attendee
Excellent direction and professionalism. Concert Attendee
Loved the LVV Women's Ensemble!  Such beautiful voices; graceful appreciated the harmonium and guitar. Concert Attendee