Recording Session with Grammy-Winner Ryan Lewis
Director Mindy Wall ably leads the choir during the recording session.
This summer an exceptional opportunity arose for the Leavenworth Village Voices (LVV): to sing in a recording session for a Grammy Award winning songwriter and producer.
Ryan Lewis has won Grammys as an instrumentalist, producer, and songwriter, and is perhaps most famous for being half of the duo Macklemore & Ryan Lewis.  Their debut album, "The Heist," earned them Grammy Awards for Best Rap Album and Best New Artist and several of their songs hit #1 on the Billboard Hot 100.  As a songwriter, Lewis co-wrote the "The Greatest Show" from the film "The Greatest Showman" and the Dan + Shay single "Glad You Exist."  Lewis produced Kesha's hit "Praying," which hit double platinum, and his productions stream in the billions of listeners.
So how, do you ask, does a local community choir known for singing Christmas music get an opportunity to sing for a famous rap and hip-hop artist?  The short answer: he asked!  As a native of Washington state, Lewis knows north central Washington well and his manager contacted us after finding us online.  We were thrilled to be asked and excited for the experience. 
LVV—and a few recruits from Leavenworth Summer Theater's (LST) cast of "The Sound of Music"—spent a day collaborating and recording new music with Ryan Lewis and producer/sound engineer Brian Wall in a state-of-the-art studio.  Lewis conveyed his vision and direction for each piece, and LVV Director Mindy Wall (no relation to Brian) ran with it, aiming to extract Ryan's concept from the singers.  
Unlike LVV's usual practice of learning and memorizing music over a period of weeks before performing it, we learned and performed each piece on the spot.  This organic creative process seemed to unearth a more genuine, less polished sound that too much rehearsal can squelch. As Mindy's first gig as LVV's new director, she exceeded all expectations, even earning a hug from Lewis at the end of the session.
The choir contributed to about a dozen pieces ranging from country to pop to hip-hop to instrumental.  Unsure of what it would be like to work with such a famous and huge name in the business as Ryan Lewis, we were amazed at how welcoming, down-to-earth, and collaborative he and his team were.  In short, the recording session was a blast . . . and it was exhilarating to make music together and help fulfill an artist's vision.
Ryan Lewis and LVV member and accompanist Darryl Wall collaborate on a chord progression for music Lewis is composing for a true crime podcast.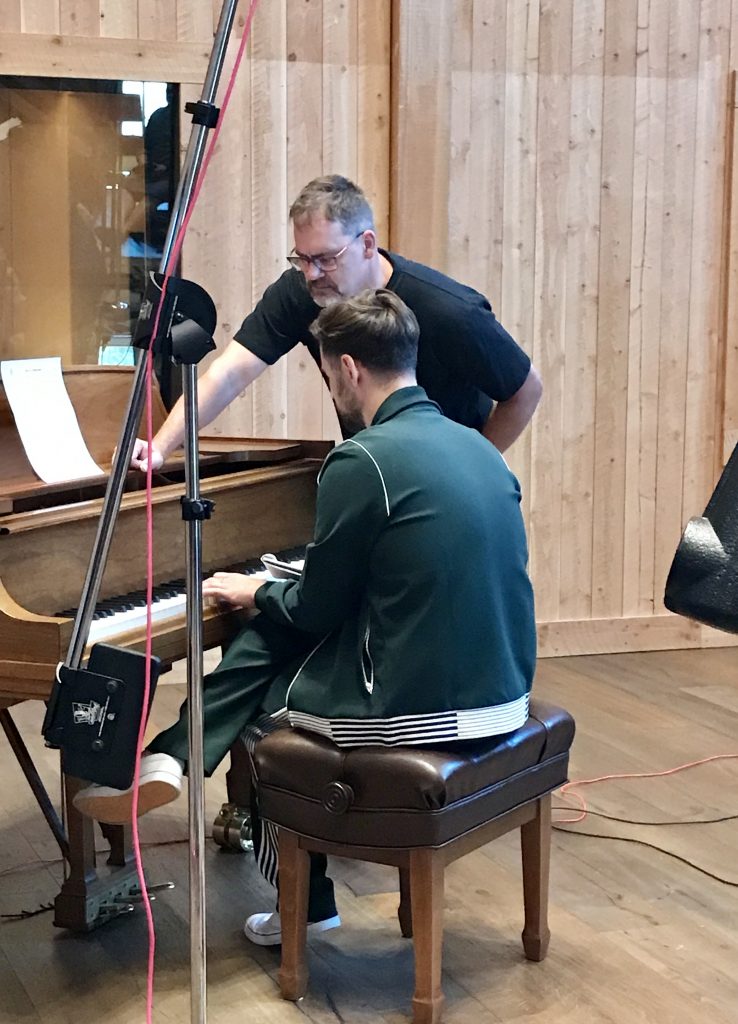 Top: Ryan Lewis and Producer / Sound Engineer Brian Wall.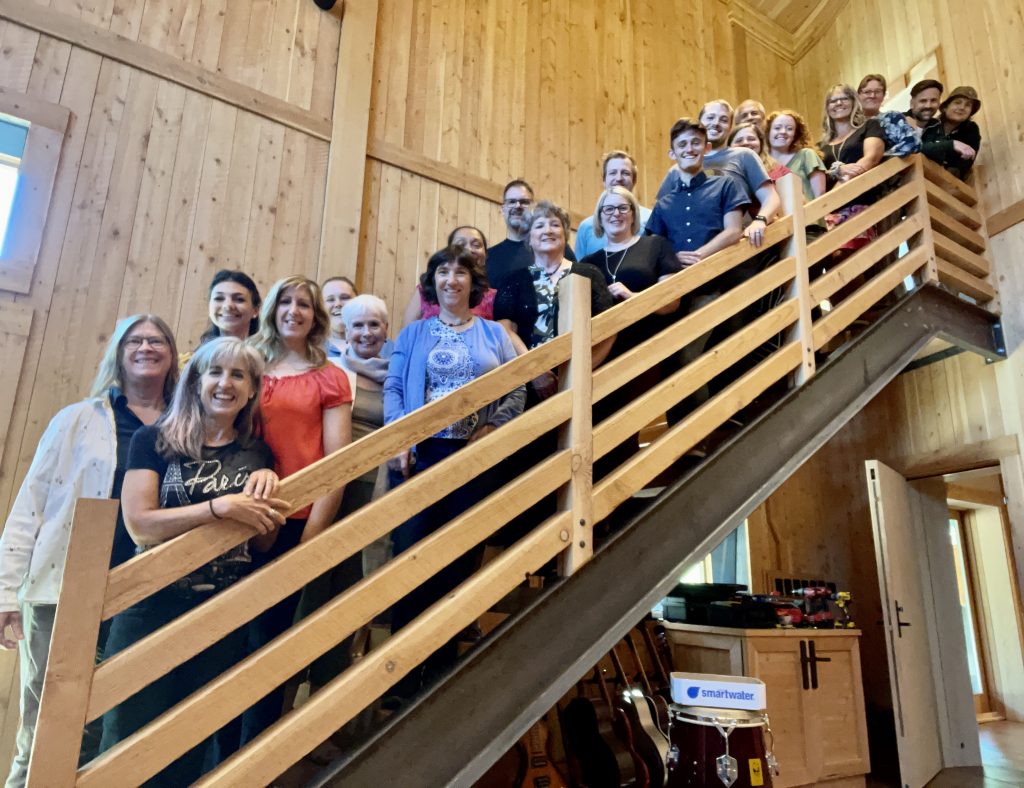 Participants:
Director: Mindy Wall
Singers:
Altos: Cathy Bronson, Megan Kratzer, Belinda Owens, Charlene Pfister, Julia Pinnix, &
Adelaide Turnage 
Basses & Tenors: Carolyn Giger, James Klarich, Jeremy Klarich, Christopher Puckett, &
Darryl Wall
Sopranos: Allison Bergstrom, Debbie Paulson, Leslie Phillips, Diane Priebe, & Maria Tramontozzi